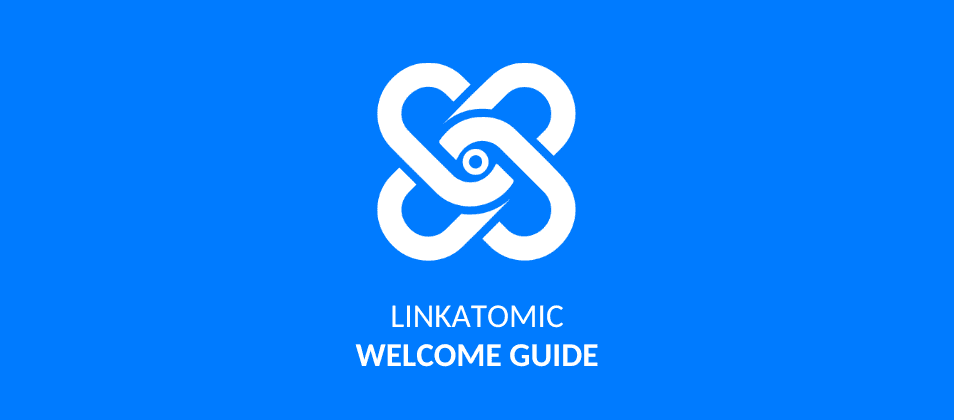 Welcome to the Linkatomic basic user guide. We will teach you how to get links in quality media and blogs by publishing professional articles written by Linkatomic.
First, you will need to create a new account. To do this, go to the registration page using the following button. An email address and password will be enough to create your account.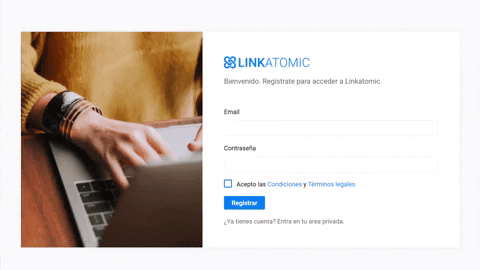 Don't forget to verify your email address using the confirmation email.
Dashboard: Your welcome panel
Once your account is activated, you will log in with your email as a user and access the Dashboard. On this welcome page you will find the media currently on offer and the latest media added to the platform.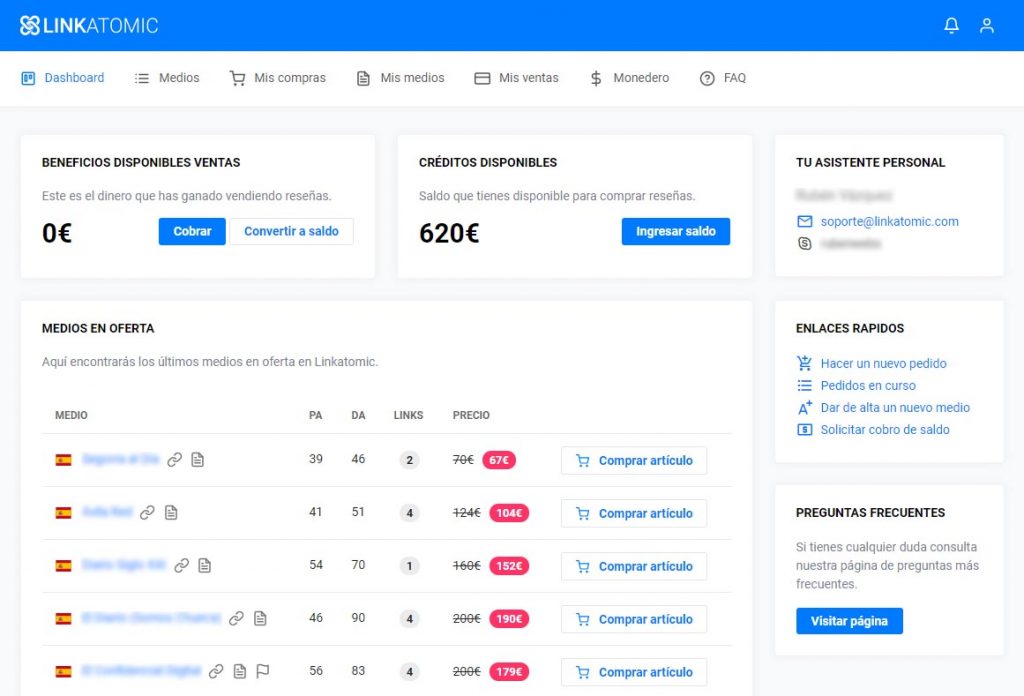 You will also have a preview of your advertiser and publisher wallets.
In order to use the platform you will need to fill in your billing information. Without this information, many functions will be blocked. We recommend you to do it now from your user profile.
Media: Blogs and newspapers where to buy SEO links
On this page you will find a list of all the media available to buy sponsored articles in which you can include your links.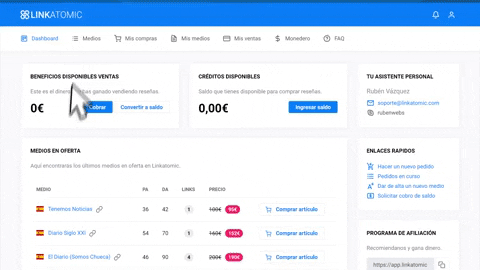 You will be able to filter media by subject, language, metrics or price to find the perfect media to promote your website or business.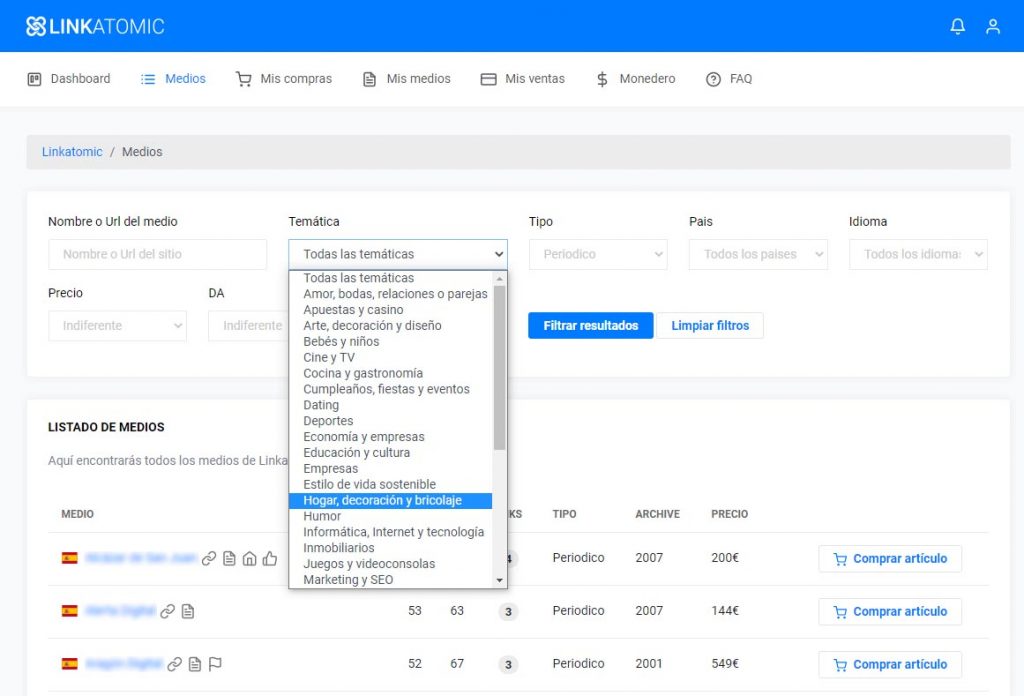 How to add balance to the wallet
You need balance in your account to buy links in professional articles to increase the visibility and visits to your website.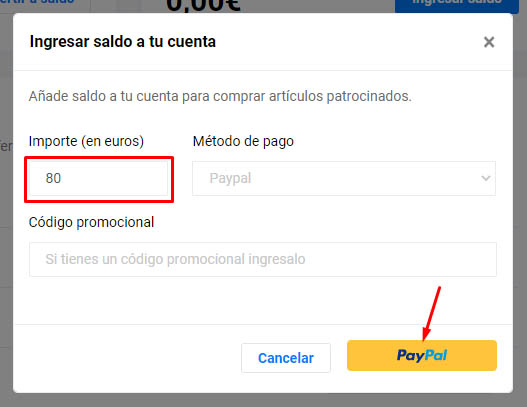 You can add balance to your advertiser wallet or from the Wallet section.
Click on the "Add Balance" button to add balance to your wallet by Paypal or bank transfer. If you have a promotional code you can include it.
Buy SEO articles in quality newspapers and blogs
Once you have selected the media where you would like to promote yourself, you will only have to click on the "Buy Article" button to complete the details of your order.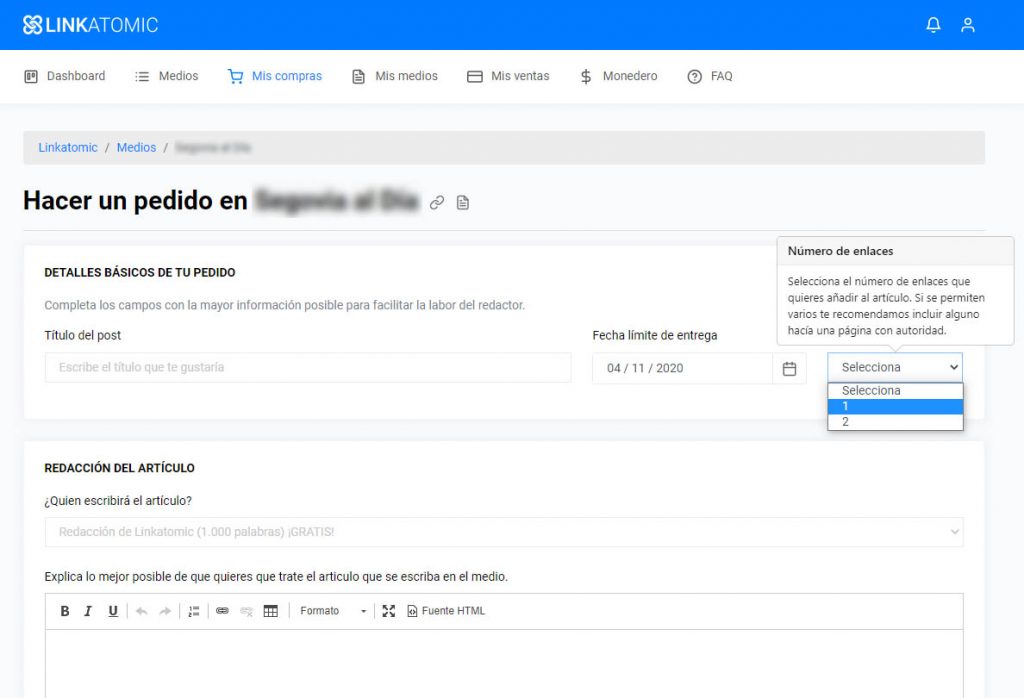 We want to make the perfect article for you, so we will need you to detail as much as possible the requirements of your order, for that you will have to indicate us:
An idea about the headline you would like for the article.
The specifications about the article you want us to write.
The links to include, as well as the keywords and URLs of each link.
Once the details are completed and the purchase is finished, the media will accept your order and one of our writers will start working on your article.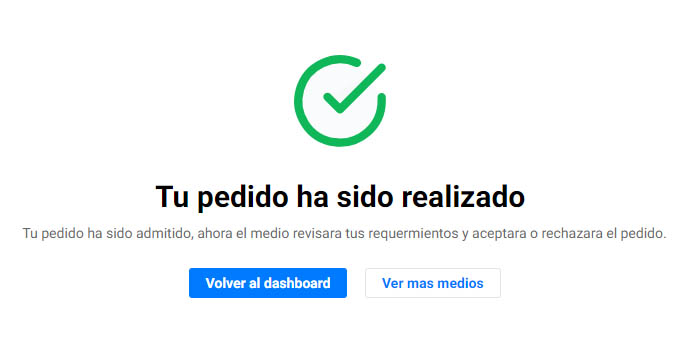 As soon as we publish it, we will notify you so you can review it.
My purchases
This is the list where all your purchases will appear along with the status of each order. You will be able to see your completed, pending and rejected orders.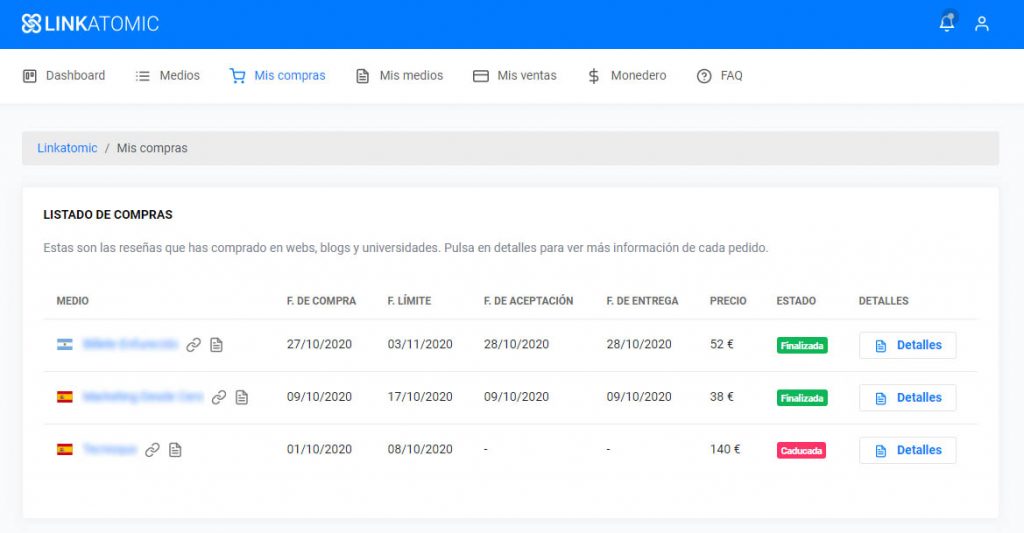 You will be shown information for each media, the address of the article that links to you, the publication date and other details about each order.
My sites to monetize
This section is dedicated to blog owners who are looking for a way to monetize their blog by publishing sponsored articles. By adding your media, our advertisers will be able to buy reviews on your pages, but best of all, we will take care of the writing. All you have to do is publish them.
To add your pages, click on "Add a Media", fill in the necessary information and indicate the price you want to charge each time an article is published on your page.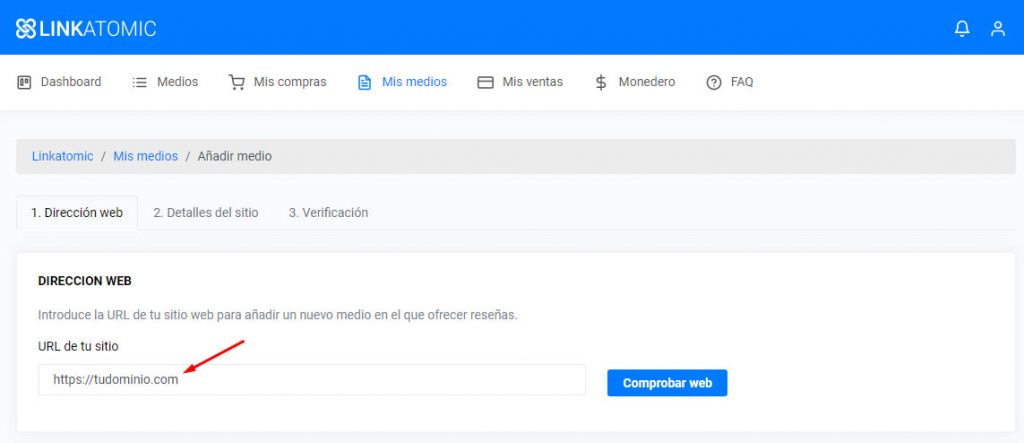 Each time a sale is made on one of your media, you will receive an email to accept or decline the order and let us know whether or not to start working on the article.
If an article does not fit with your theme you can reject it, without any problem.
My completed sales
Here you will find all the orders that have been commissioned to publish in your media. You will have all the information about each order, its status, the price you have earned with each review and its details.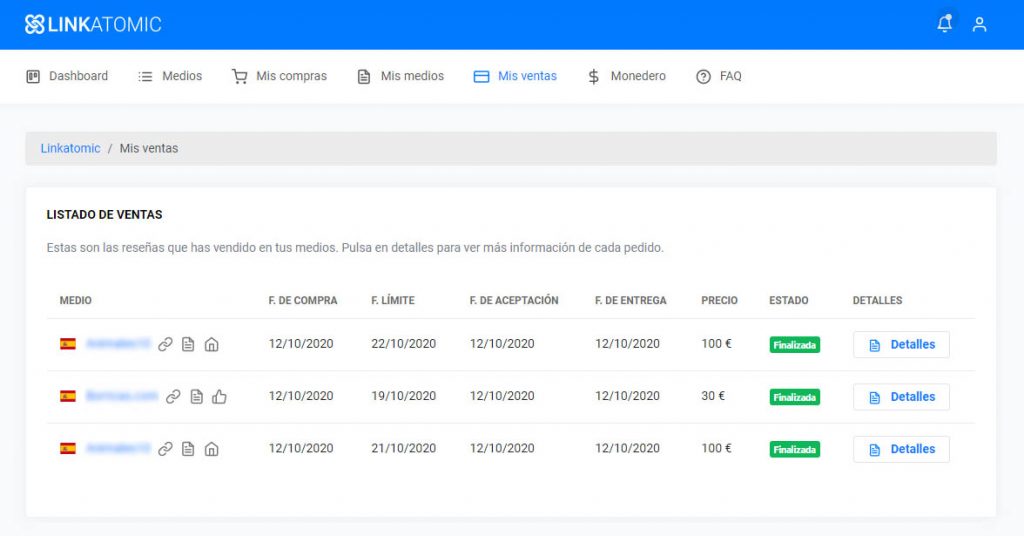 Each completed order will add money to your publisher's wallet and you will be able to cash it whenever you want, as long as you exceed the minimum amount to collect.
Advertiser and publisher's wallet
In this section you will have the history of all your movements, both the balance in your advertiser account and the profits in your publisher account.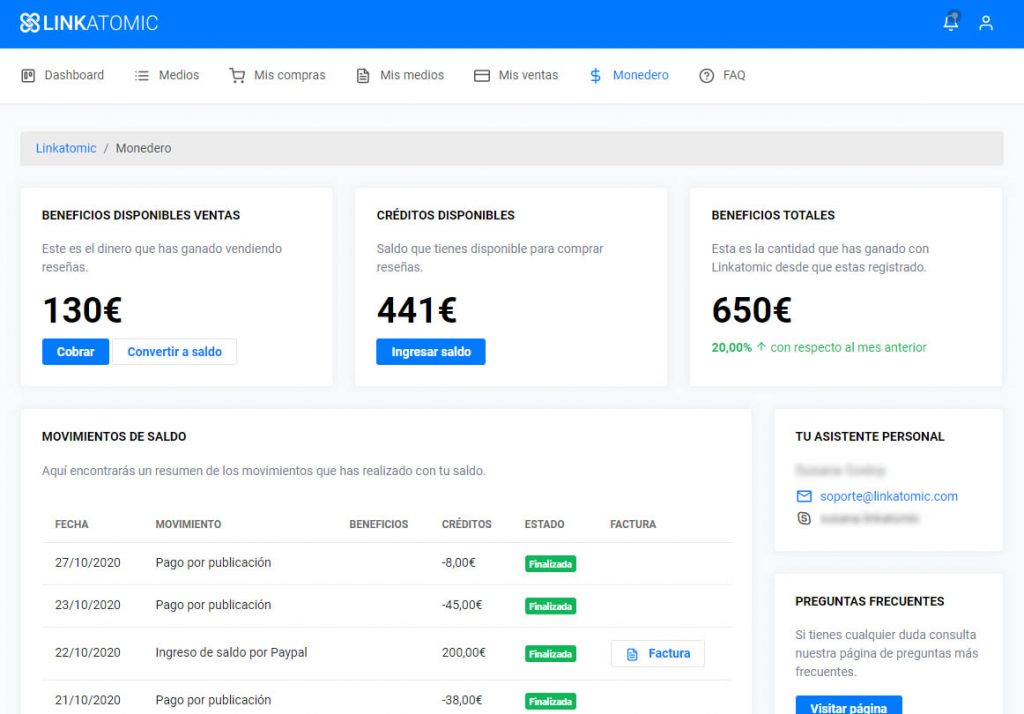 You can add balance to your advertiser wallet and request the withdrawal of your profit wallet. You will always know the status of your earnings and payments.
If you want to, you can also convert your profits as a publisher to credits to invest your earnings in improving the web positioning of your media.
My user profile
On the profile page you have your general information, billing information, and notifications.
Without your billing information you will not be able to add balance or withdraw benefits as an invoice will be generated for each such transaction. In addition, without this information you will not be able to place orders. Do it now to enjoy all the benefits.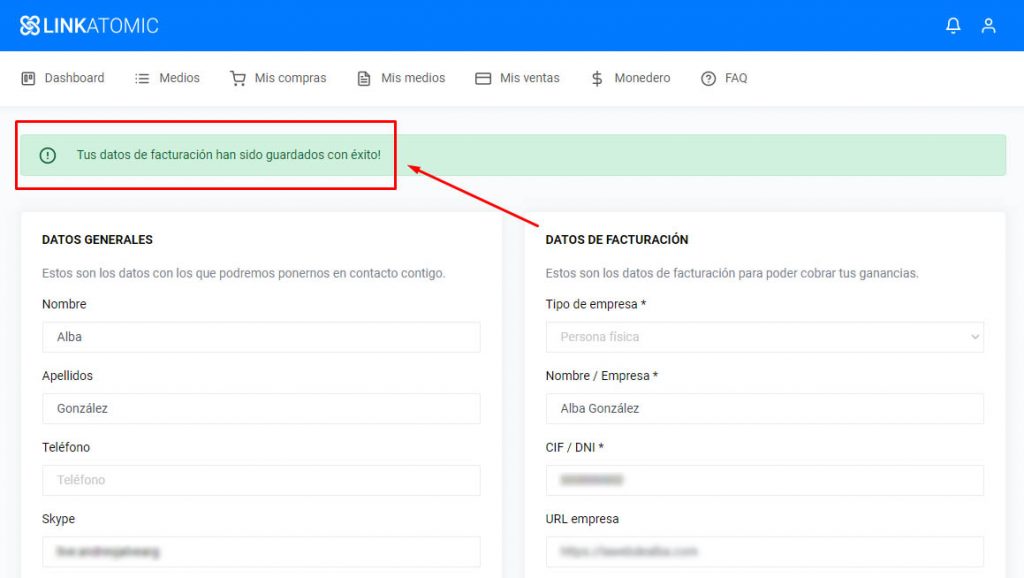 In the notifications block you can activate and deactivate the notifications you receive when a new order is placed, we launch newsletters or we put media on offer every week.
On this page you can also see the statistics of our affiliate program. Find out how you can earn money by referring your contacts or visitors to us.
Do you have any questions?
In the FAQ section you will find answers to the most frequently asked questions.
If you still have any questions, please contact your account manager to solve them quickly or write to us using the contact form, and we will respond within 24 hours.
¿Te ha gustado el artículo?
Need help with your SEO and Branded content strategy?
At Linkatomic we offer you 7.000 newspapers and blogs to improve your visibility on the Internet.