The 23 best travel blogs in English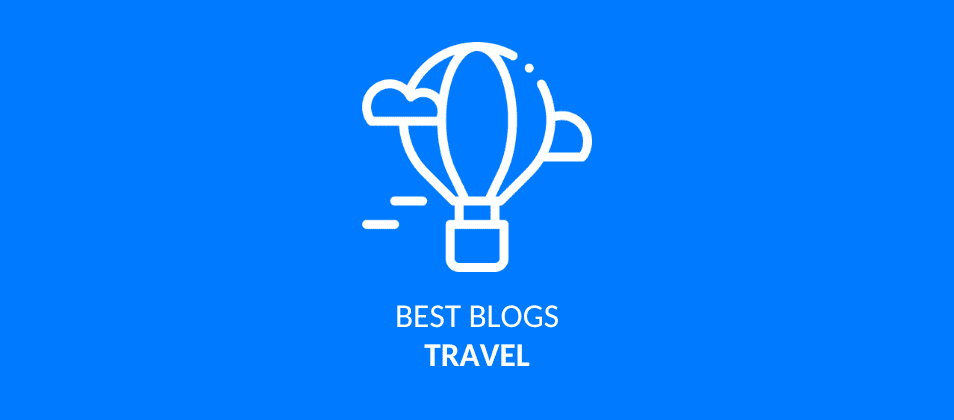 Ranking of the best travel blogs
Click para Twittear
Looking for the best travel blogs in English? Then you're in the right post. Mind you, on these sites you won't find Instagram models stretched out under waterfalls or giggling tourists with selfie sticks riding elephants.
The travel blogs that make up this list showcase heartfelt writing, meaningful adventures, stunning photography, authentic experiences, practical advice for traveling alone, with family, as a couple or with kids, and above all, honesty in travel, something readers are constantly looking for. We've found a few bloggers who do all of those things and do them really well. That's what this post is all about.
We share the 23 best travel blogs in English. As you read each of them, you won't want to wait any longer to take that trip you've been planning for a while.
So pack your bags, select your next destination and follow the recommendations of these blogs to enjoy the vacation of a lifetime, whether on a beach in the Mediterranean Sea, visiting the best museums in Europe or enjoying the pyramids of Egypt.
What are the best hotel, tourism and travel blogs in English?
Traveling and getting to know the world is priceless, because not only will you get to know a new destination, you will also get to know its culture, traditions, monuments, incredible places and even people. In short, there is nothing more enriching than traveling the world.
However, it can be overwhelming to plan a trip if you don't have accurate information. For example, what equipment do you need to climb a mountain in the Swiss Alps? What are the safest places to travel with children? How to book a car in Spain? In short, it's a lot of information, more than just packing your suitcase and buying a ticket.
For this reason, Linkatomic presents a list of the 23 best travel blogs in English. In each of these sites you will find valuable and different information for traveling alone, with friends, with a partner or with children. You can compare sites, get travel tips and recommendations, buy guides, book flights, hotels, cars and much more. So, are you ready? Well, here we go!
OffMetro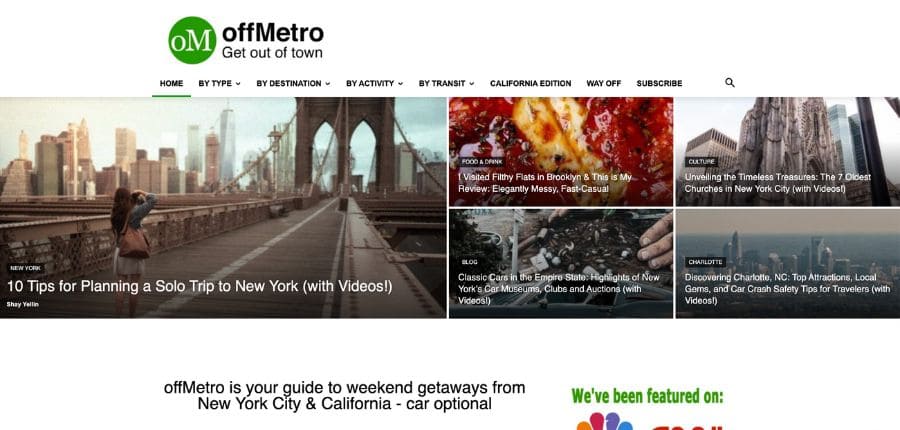 It is a website that offers alternative urban travel recommendations, where weekend getaways can be made without using the car. The objective is to show options to go out and enjoy day trips or short vacations, accessing these destinations through sustainable means of transportation. The premise is that, although we cannot extend our weekends, it is in our hands to enrich them with these nearby and accessible experiences.
The Rooftop Guide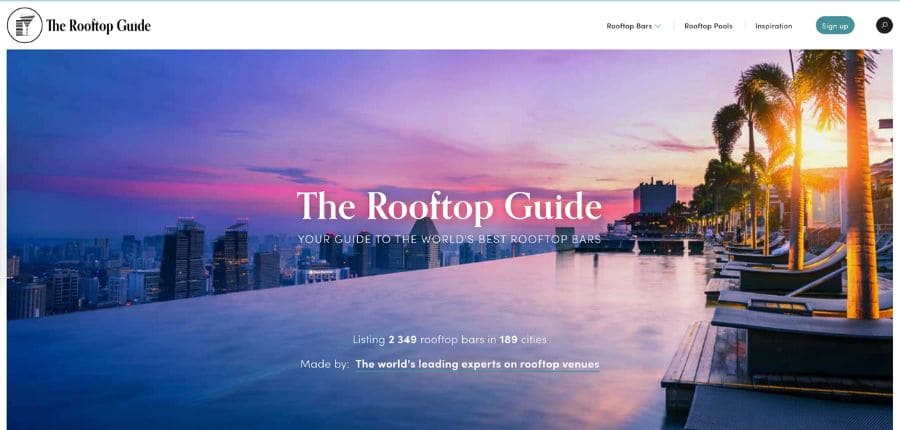 The Rooftop Guide is a blog that discovers the best rooftops and terraces with panoramic views in cities around the world. It offers recommendations, reviews and tips to enjoy these unique outdoor experiences. With a focus on photography, it presents the most Instagrammable rooftops. It is an essential guide to experience the thrill of heights and appreciate the skyline of the great metropolises from above.
Tara Lets Anywhere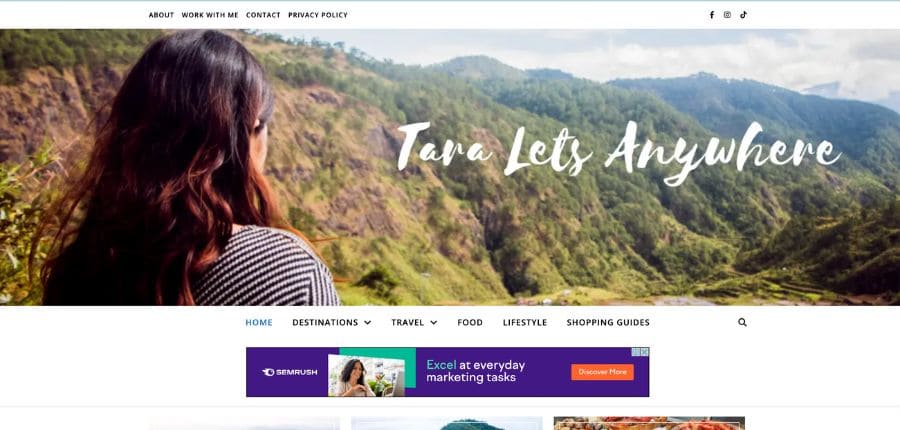 It is a travel and food blog that offers a detailed guide about the Philippines and other destinations. With "Tara" (meaning let's go) as her tagline, Katherine Cortes, a software engineer and freelance writer/editor, shares her experiences and travel tips. From tourist attractions to staycations, food and sustainable tourism, the blog invites readers to discover fascinating destinations and enjoy authentic experiences in the country and beyond its borders.
Our Globetrotters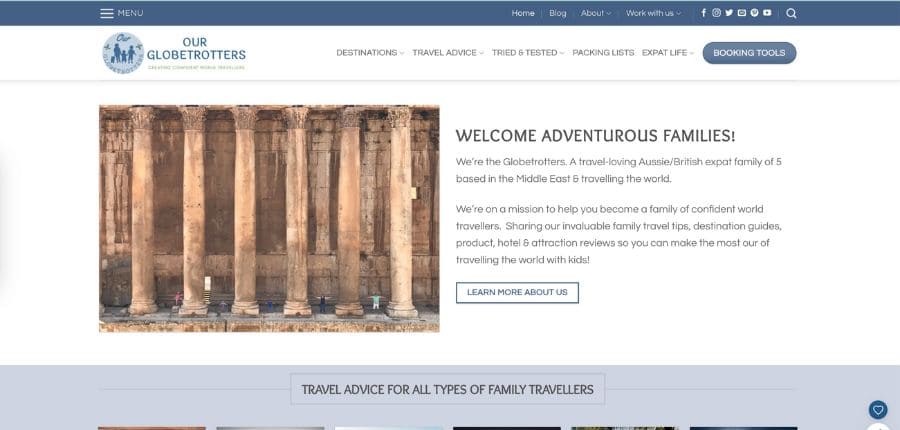 Our Globetrotters is a family travel blog created by an Australian couple and their children. They share their adventures around the world and experiences. They also offer practical guides for traveling with kids, tips for nomadic families and reviews of family-friendly destinations. Their mission is to inspire parents to step out of their comfort zone and embark on journeys around the world.
WOW Travel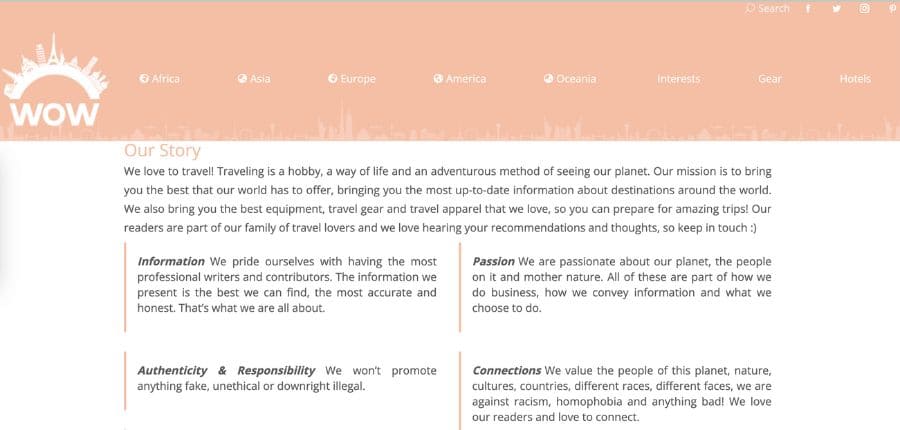 WOW Travel is a website that functions as an aggregator of trusted travel reviews. It offers information on destinations, hotels, travel products and useful tips for planning your next trip. It also includes articles on fashion and travel clothing, as well as guides to starting your own travel blog. The site focuses on providing authentic experiences and recommendations from real travelers.
Gonomad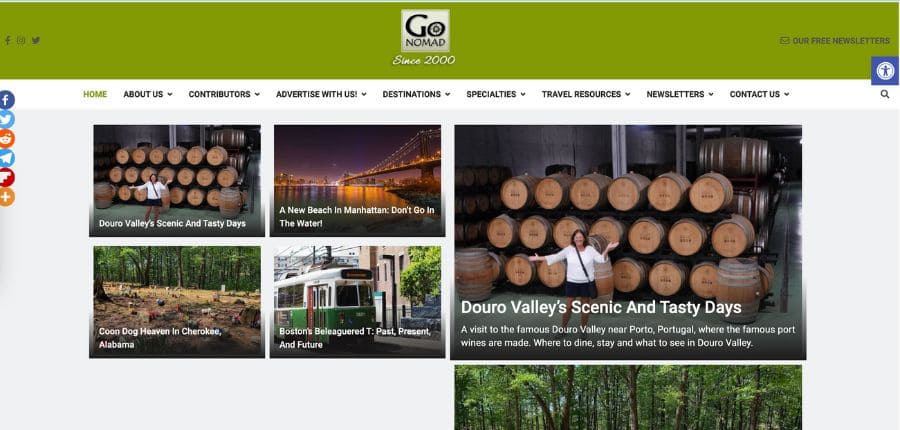 Gonomad is a website that offers information and travel guides for destinations around the world. The site focuses on providing recommendations for independent and adventurous travelers, with articles on accommodation, transportation, activities and cultural experiences. It also includes sections on family travel, adventure travel and sustainable travel, as well as a travel news and events section.
Chichen Itza Blog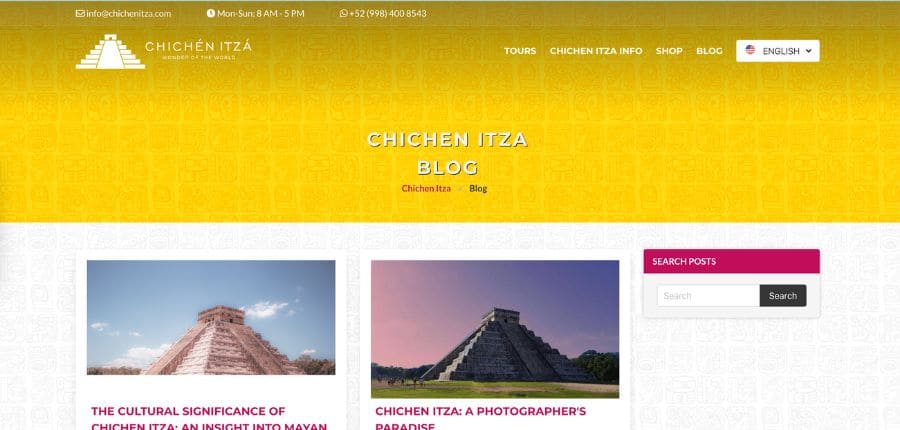 It is a blog dedicated to the ancient Mayan city of Chichen Itza, one of the New Seven Wonders of the World. It provides up-to-date information on the history, archaeology and latest news related to Chichen Itza and Mayan culture. It also shares details about special events, such as the spring equinox, and tips for visiting the region, including accommodations and group tours.
A Broken Backpack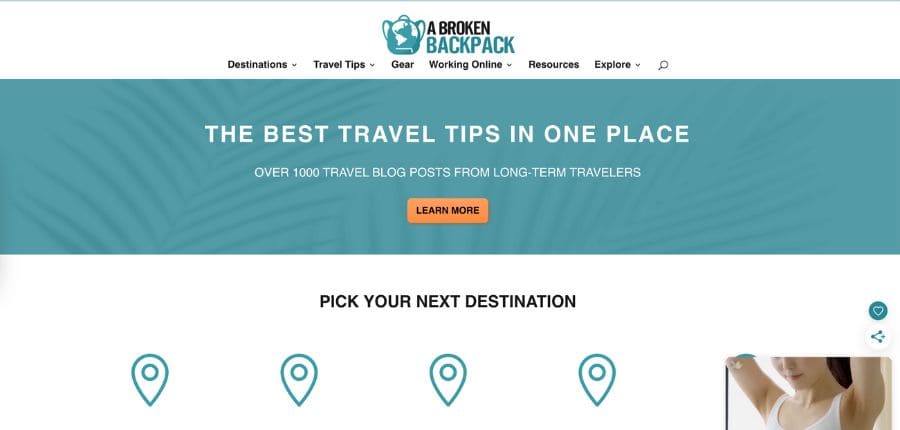 A Broken Backpack is an adventure travel blog focused on long-term travel, created by Canadian blogger Melissa Giroux. The site offers budget travel tips, luxury adventures and inspirational travel stories. In addition to sharing her personal experiences as a backpacker and travel blogger, Melissa also offers expat guides, travel planning resources and tips on how to start a travel blog.
The Solo Globetrotter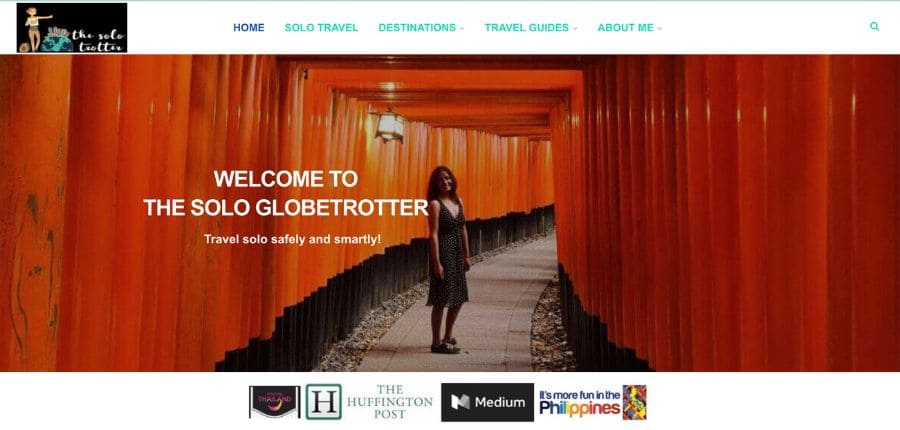 The Solo Globetrotter is a travel blog focused on solo experiences and adventures around the world. The author shares detailed travel guides, helpful tips and personal accounts of her adventures. The content covers popular and off-the-beaten-path destinations, as well as topics related to the outdoors, hiking and travel photography. In addition, the blog also features product reviews and helpful resources for planning and enjoying solo travel.
Cruise Radio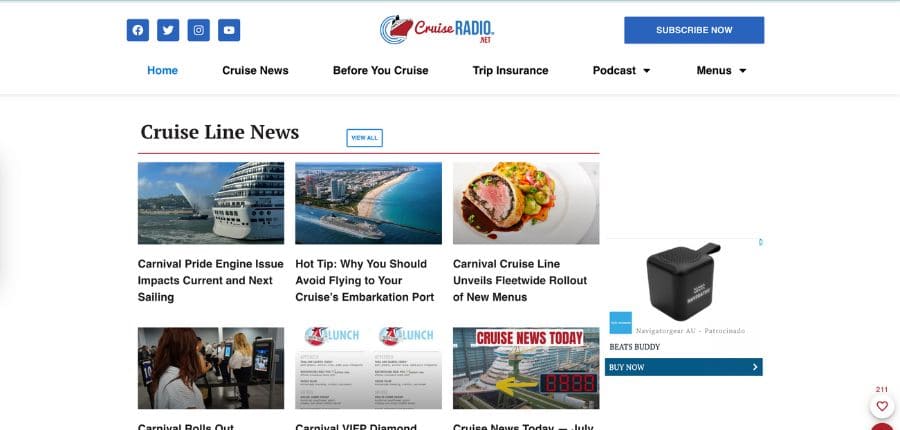 Cruiseradio is a website dedicated to the cruise industry. It provides up-to-date cruise information, including news, ship reviews, travel tips and interviews with industry experts. The site also offers resources for planning and booking cruises, as well as information on popular destinations and shipboard activities.
Luxury Travel Magazine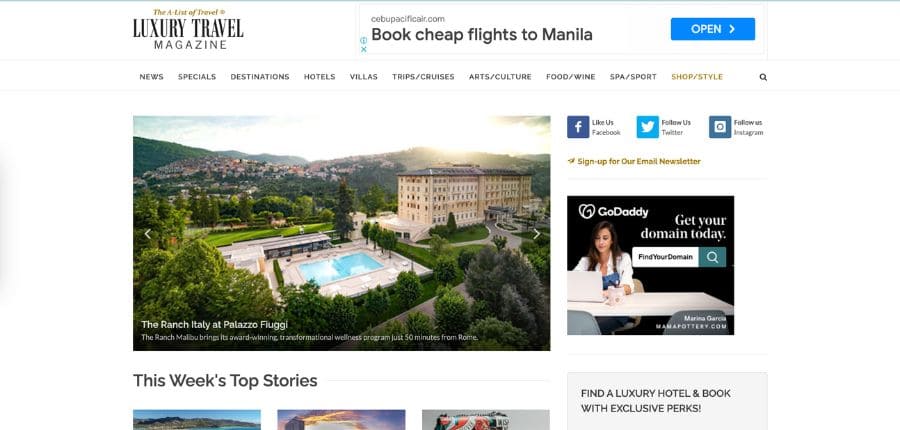 It is a website dedicated to providing luxury travel information and resources. It features articles, news and special offers from the best luxury hotels, resorts and villas. In addition, it offers travel guides, destination reviews and tips for travelers seeking exclusive, high-end experiences. The site's main focus is to provide inspiration and options for those looking to travel in style and comfort.
Dubai.com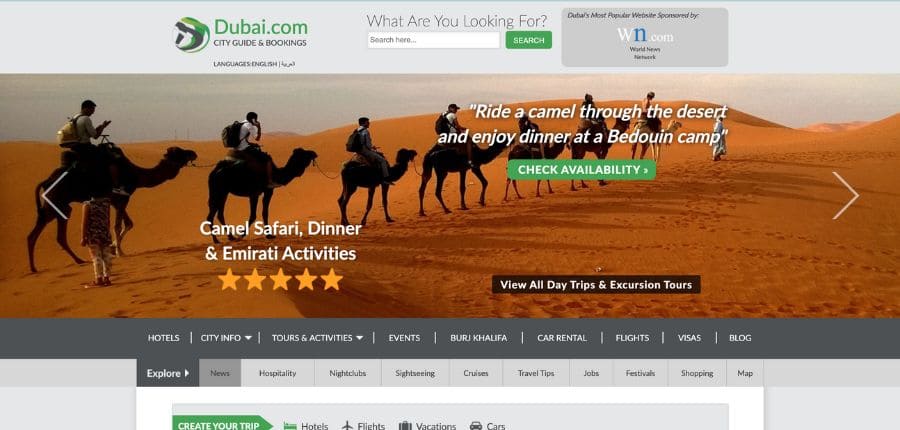 It is a simple travel guide for everything you need to know about Dubai. It offers information on accommodation, restaurants, attractions, events and activities in this city. In addition, it provides travel planning tools, including flight, hotel and tour bookings. The site also features articles and travel guides to inspire visitors and help them discover the best of Dubai.
Things To Do In Amsterdam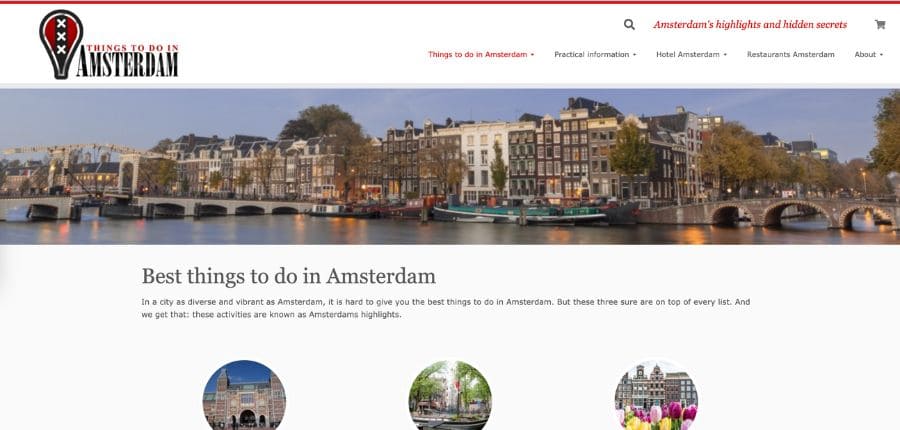 ThingsToDoInAmsterdam is a website that offers information and recommendations on activities, attractions and events in Amsterdam. The site provides detailed guides on what to do in the city, including options for different interests and budgets. It also offers practical tips for visitors, such as transportation, accommodation and dining options.
Two Monkeys Travel Group
Two Monkeys Travel Group is a luxury and adventure travel blog created by Kach Medina Umandap from the Philippines. It features articles on visa applications for Filipinos, detailed itineraries and sustainable lifestyle in their travels.
iTour VN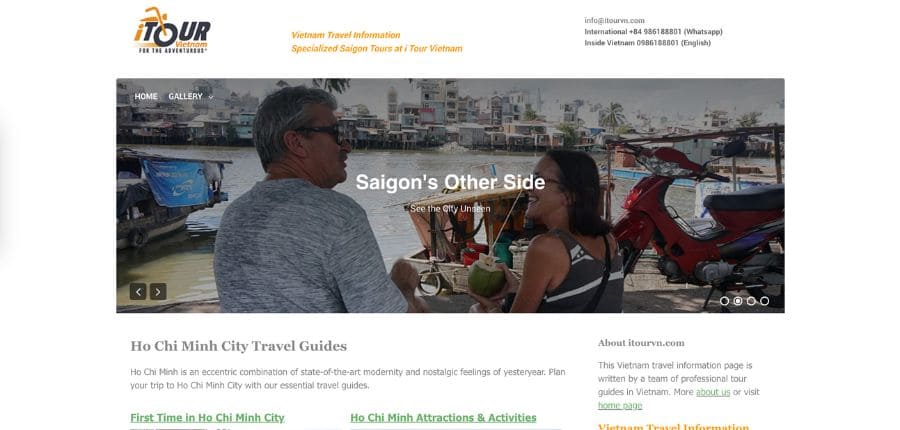 iTour Vietnam is a private tourism platform that offers unique experiences in Vietnam, especially in Ho Chi Minh City. Its tours include motorcycle tours of the city, night tours, food tours and excursions to landmarks such as the Cu Chi Tunnels.
Wanderlust Storytellers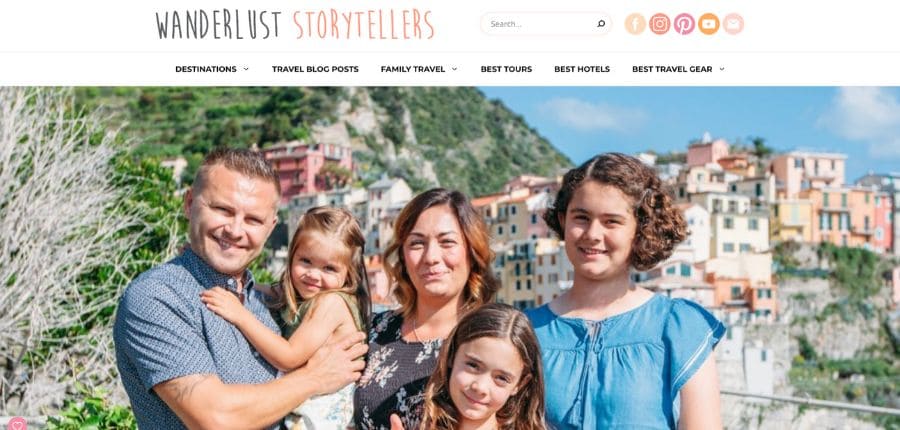 It is a family travel blog that offers tips, destination guides, reviews of family-friendly accommodations and activity recommendations. Since 2015, it inspires and educates families around the world on how to travel slowly and immersive, creating lasting memories and exposing children to different cultures. They also share packing lists, travel gear tips and collaborations with other travel experts.
Luxury Latin America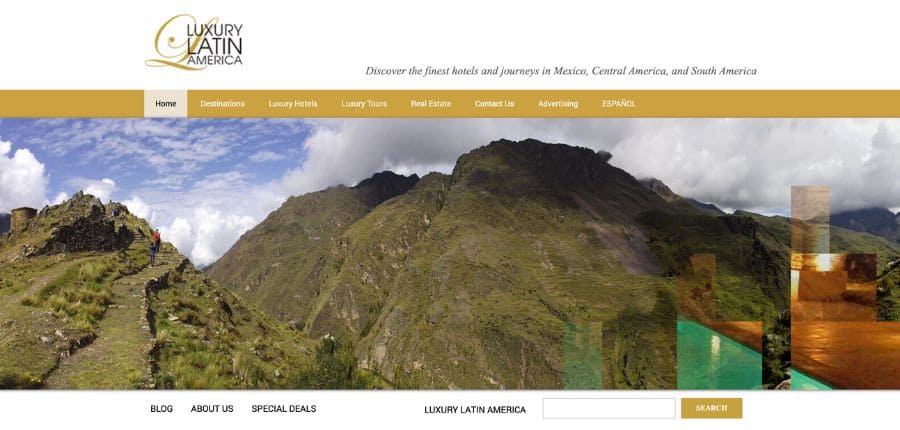 Luxury Latin America is an online magazine dedicated to luxury tourism in Latin America. It offers detailed reviews of the best luxury hotels and resorts, as well as articles on exclusive trips and excursions in the region. It also covers luxury vacation real estate developments in the region.
One Step 4Ward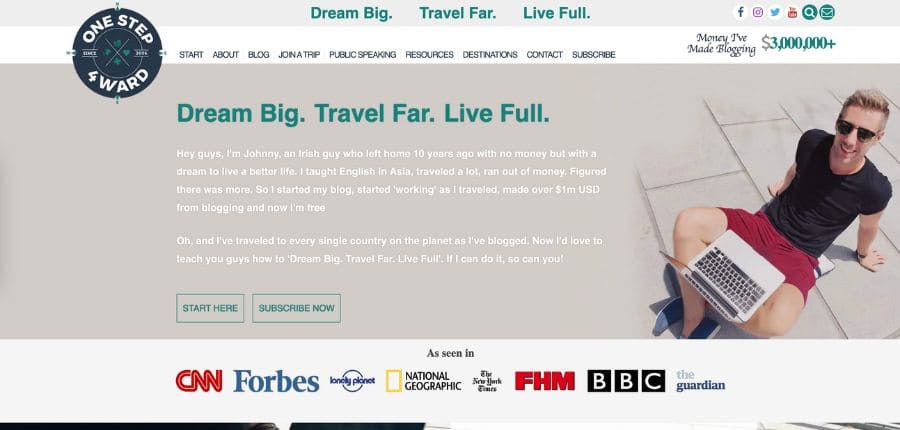 It is a travel blog created by Johnny Ward, an Irishman who has visited every country in the world and has generated over $1 million through his blog. He shares his experiences, travel tips and how to change your life by following your passions. He also offers help for those interested in starting their own travel blog.
Atlas & Boots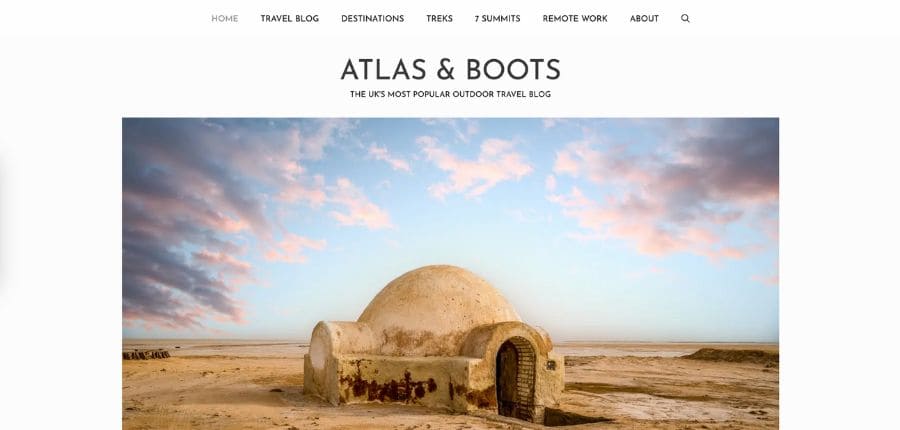 Atlas & Boots is an outdoor travel blog covering exciting activities in remote locations. Founded by Kia Abdullah and Peter Watson, it offers resources for outdoor adventures, finding remote work, and balancing life and work while traveling. It also provides ideas for creating a service-oriented travel blog and promoting it on social media.
Passport Symphony
Passport Symphony is a travel blog that focuses on exploring off-the-beaten-path destinations and traveling on a budget. It offers tips and recommendations for adventurers looking to avoid tourist traps and experience the local culture. It also shares reviews of travel companies, accommodations, and helpful resources for planning and saving on your travels.
Food Fun Travel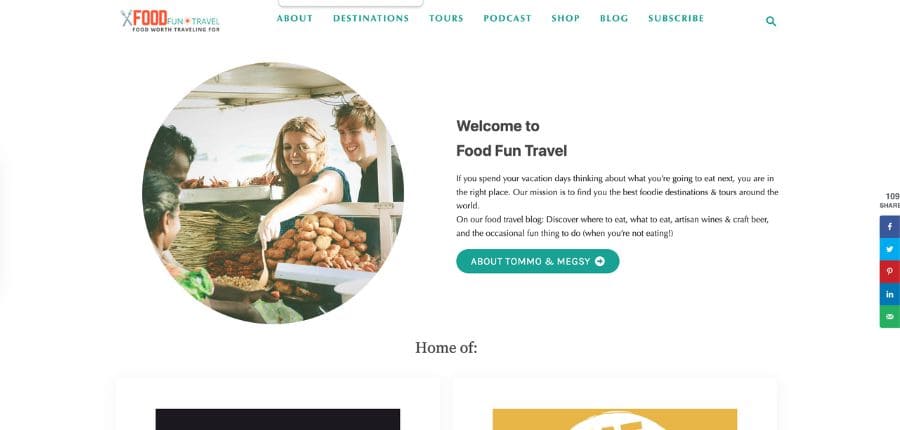 It is a travel blog focused on the search for unique culinary experiences around the world. The creators, Megsy and Tommo, share food guides, restaurant recommendations and local dishes, as well as tips for enjoying wines and craft beers. In addition, the blog includes high-quality photography and stories of their culinary adventures, inspiring readers to explore new destinations and flavors.
My Family Travels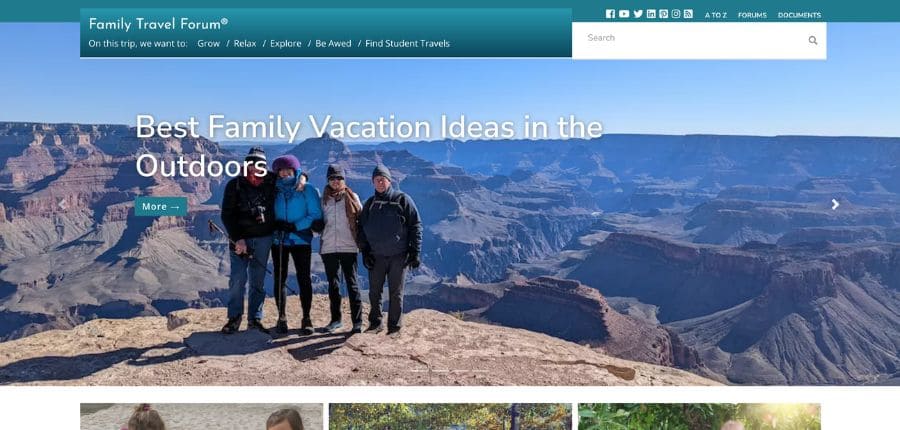 MyFamilyTravels is a website dedicated to providing resources and tips for planning family vacations since 1996. It offers information on family travel destinations, products and trends, as well as articles written by students and community members. It also includes forums for sharing travel questions and answers, and promotes the exchange of experiences and practical advice among traveling families.
Drift Travel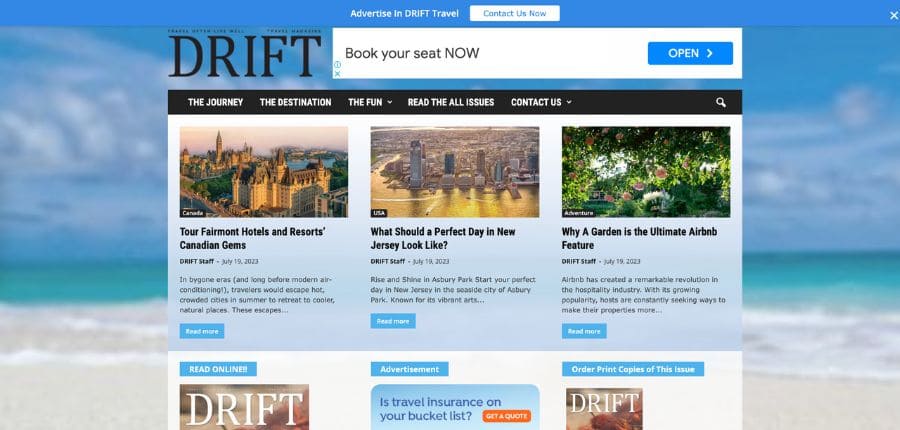 It is a travel magazine that focuses on hotels, resorts, vacation destinations and travel products. It features articles on unique destinations and cultural experiences, as well as tips and information on investments and trends in the world of travel. In addition, Drift Travel offers high-quality photography and travel stories to inspire readers to explore new places and experience unforgettable adventures.
How to publish articles about your business on the best travel blogs?

Do you want to position your website? It is no secret that Digital Marketing is a fundamental tool to position a brand in search engine results and social networks. Nowadays it is practically impossible to give visibility to your website without a digital marketing strategy.
In that sense, Linkatomic is the best option if you want to improve the visibility of your travel website, since you can buy sponsored articles in any of these amazing travel, tourism and hotel blogs. In a few months you will increase your brand visibility and search engine results.
By hiring Linkatomic's services you will have thousands of editors at your disposal that will help you improve your metrics with sponsored posts and quality links on any topic, including tourism.
Early childhood education teacher transformed into SEO specialist, marketing, and sales. It started as a hobby and ended up becoming an obsession.
Need help with your SEO and Branded content strategy?
At Linkatomic we offer you 7.000 newspapers and blogs to improve your visibility on the Internet.
Related Posts