The 16 best fashion blogs in English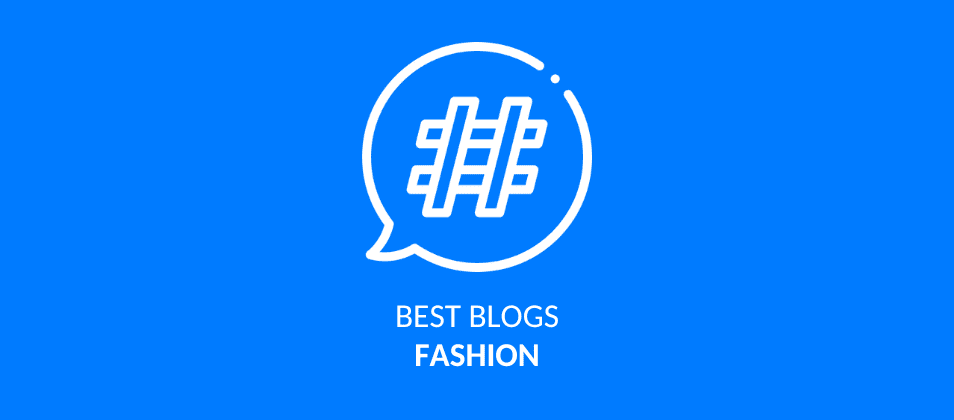 Ranking of the best fashion blogs
Click para Twittear
Trends, fashion, beauties, urban, elegant or sporty clothes, accessories and haircuts. All this and much more is what the world of men's and women's fashion is about.
It may sound overwhelming, but that's why we have prepared a ranking of the best fashion blogs in Spanish, so that you don't miss anything from those who know the most about the subject. Let's get started! 💅
What are the best fashion blogs in English?
Whether they are websites, blogs or digital magazines with an excellent section on fashion, for women, children or men… Look no further. Here you will find them to take notes and find out what the new trends are when it comes to dressing.
TheVou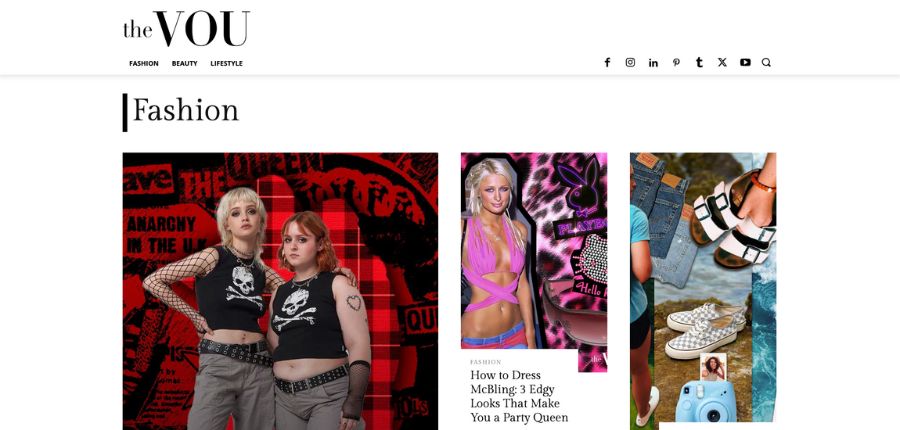 TheVou is a diverse blog that encompasses fashion, beauty, lifestyle and culture. It offers a fresh and modern take on current trends, from fashion tips to product reviews. Her articles reflect a passion for innovation, featuring fresh ideas and unique perspectives on sustainable fashion, skincare, travel and more.
With a focus on authenticity and inclusivity, TheVou promotes diversity in fashion and beauty, encouraging confidence and individuality. Its content inspires readers to explore their creativity, experiment with their personal style and stay on top of the latest trends.
Love Happens Mag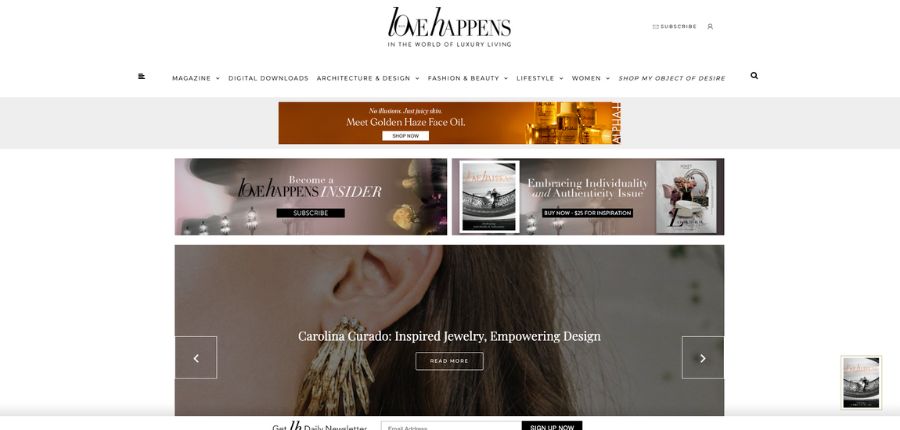 Love Happens Mag is a virtual sanctuary that pays homage to love in all its forms through an exquisite prism of design, fashion and sophisticated lifestyle. You can immerse yourself in a universe where the art of interior design, fashion and culture intertwine in a harmonious dance.
This carefully selected blog is a showcase of charming stories highlighting creative, trends and inspiring experiences. With a focus on elegance and sophistication, it invites you to explore the latest in design, travel, art and refined lifestyle. Her stories are like brushstrokes on a canvas, weaving a narrative full of beauty, creativity and charm.
AllWomenStalk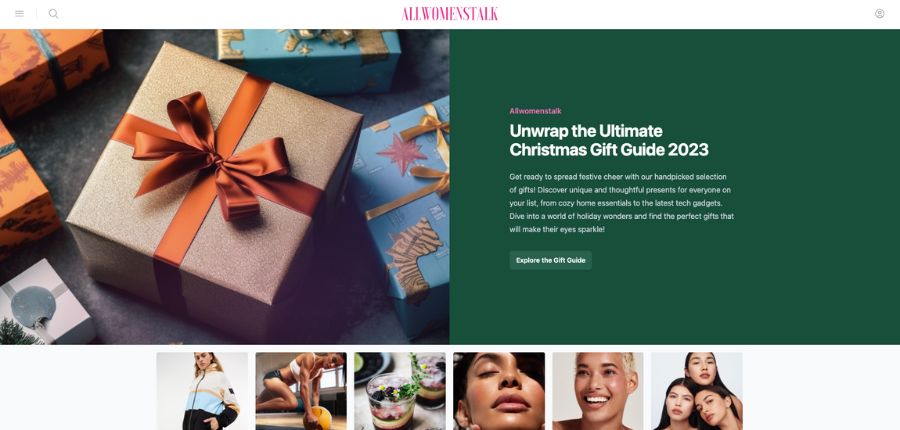 AllWomenStalk is a virtual universe, a secret garden where ideas, secrets and tips for bold and curious women flourish. It is a melting pot of feminine wisdom, embracing every aspect of life, from fashion to health to love and empowerment.
This blog is a feast for the senses, with its lively and insightful accounts of fashion, beauty, relationships and everyday life. Each post is like an intimate conversation between friends, offering inspiration and practical solutions. AllWomenStalk is a shining beacon guiding women on their journey to self-expression, confidence and fulfillment.
Fashion Gone Rogue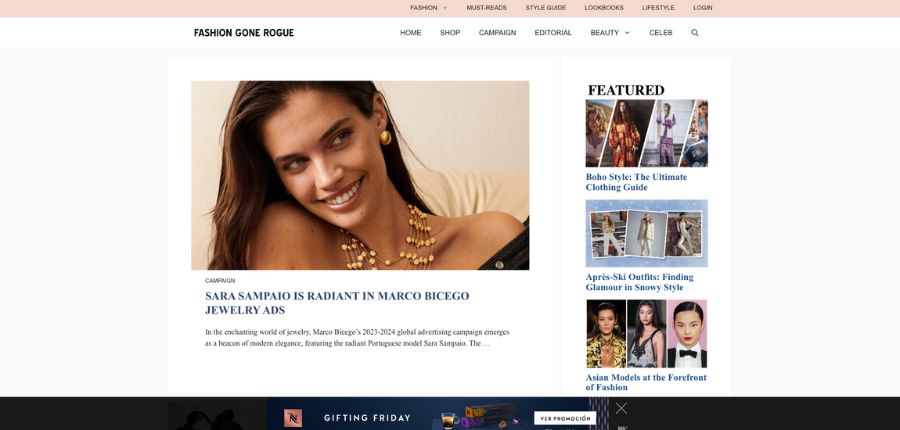 Fashion Gone Rogue is a digital sanctuary where fashion becomes art, capturing the essence of contemporary elegance. This blog is a dynamic canvas where the latest trends intertwine with creativity, unfolding captivating visual stories. From dazzling fashion editorials to informative articles, this space celebrates diversity and innovation in the fashion industry. Each publication is a window into a vibrant world of style, offering inspiration for those looking to explore creativity and sophistication. Fashion Gone Rogue is a beacon that illuminates the path to self-expression and personal style.
Luxuo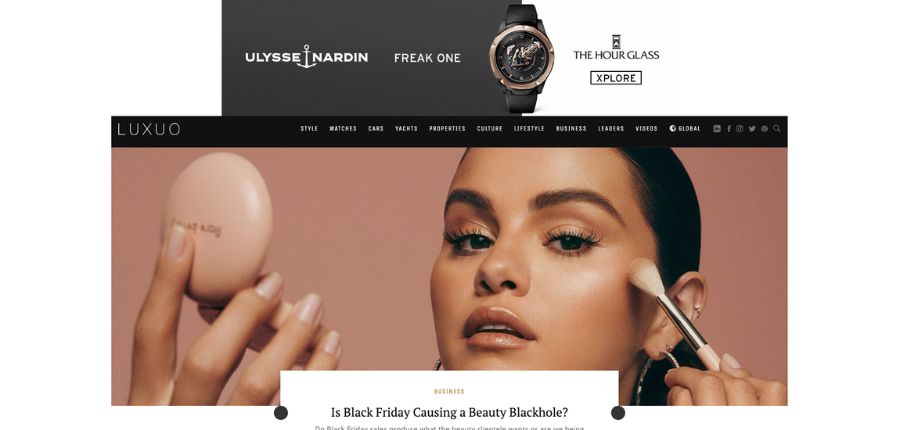 Luxuo is a digital epicenter of luxury and opulence, a dazzling showcase of the exclusive and the exquisite. This blog is an oasis for lovers of refinement, exploring the latest in fashion, real estate, travel, technology and luxury lifestyle.
It presents a showcase of unique experiences, from reviews of iconic hotels to the most coveted collections. With a meticulous focus on sophistication, Luxuo offers a window into a world of unparalleled elegance, destined to inspire those who seek excellence in every facet of life. It is a beacon that guides to the pinnacle of luxury and distinction.
Fashion Week Online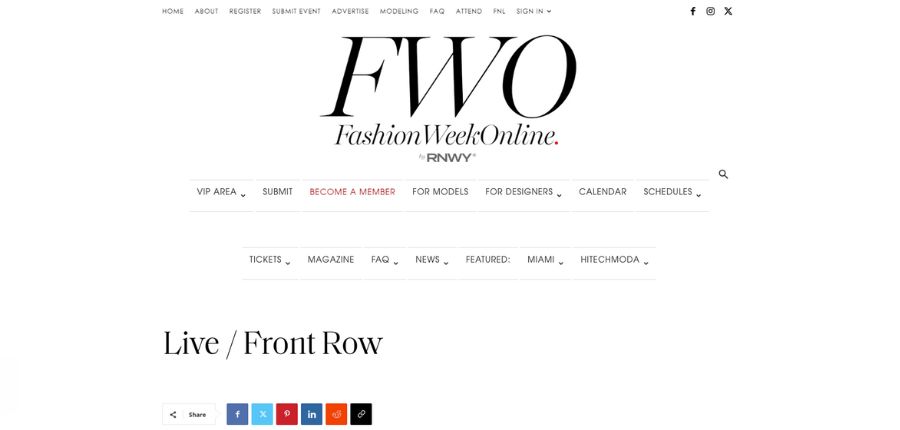 Fashion Week Online is a dynamic window into the fashion universe. It goes beyond the runways, offering an in-depth look at the trends, designers and narratives behind the industry. From fashion weeks to emerging talent profiles, this blog is a vital resource for fashion enthusiasts.
Highlighting innovations, trends and reflections on sustainability in fashion, its inclusive approach celebrates diversity and creativity. With interviews, runway coverage and practical advice, Fashion Week Online is a beacon that illuminates the most fascinating and diverse corners of fashion.
New York Style Guide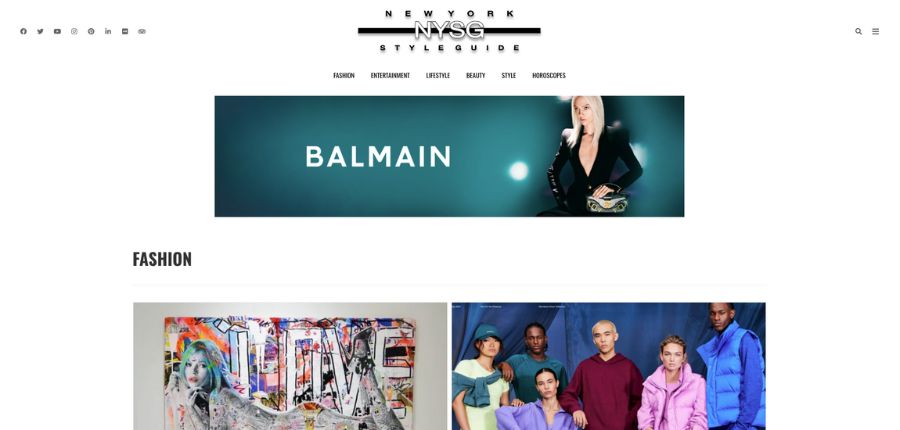 New York Style Guide is like an ever-evolving art gallery, capturing the heartbeat of the Big Apple through the lens of style and fashion. This blog is a vibrant canvas where urban trends merge with sophisticated elegance, creating a symphony of fashion.
From the majesty of iconic runway shows to the most intimate corners of New York culture, each post is a picture that tells the story of glamour, innovation and creativity. A reflection of the city that never sleeps, this blog is an ode to New York's endless beauty and avant-garde.
Upscale Living Magazine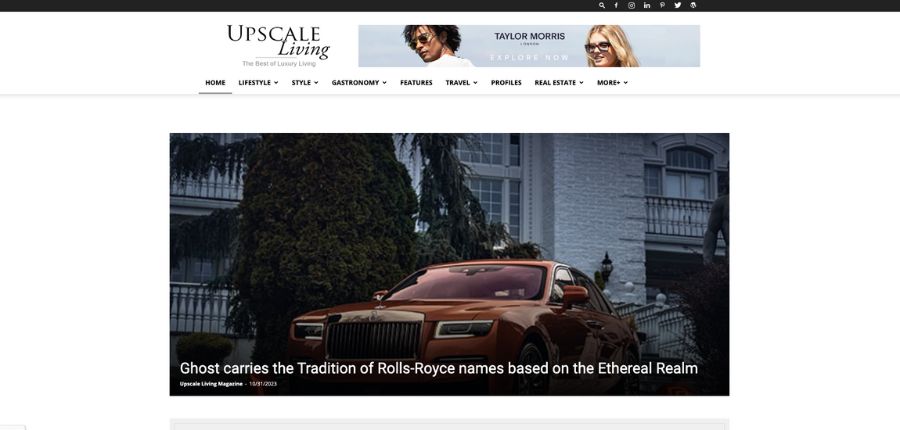 Upscale Living Magazine is a beacon of sophistication and opulence, immersing itself in the sublime of luxury and refinement. This blog is a digital sanctuary for those in search of the extraordinary, exploring everything from exclusive travel destinations to exquisite culinary experiences. From detailed reviews of luxury properties to the latest lifestyle developments, this space is an ode to elegance.
With impeccable aesthetics and exquisite storytelling, each publication is an invitation to immerse yourself in a world of distinction and exquisiteness, celebrating the finest and most exquisite that life has to offer.
Male Model Scene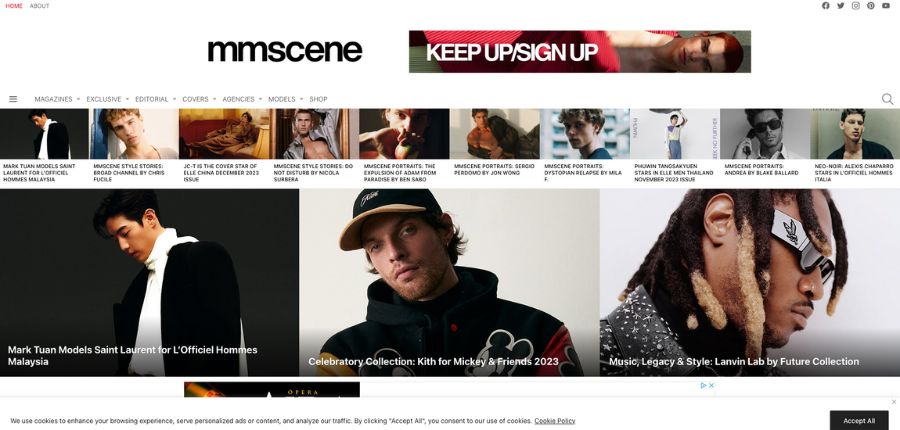 MaleModelScene is a blog focused on men's fashion and the male modeling industry. It offers a detailed look at the world of men's fashion, highlighting trends, designers, runway shows and prominent models.
With a wide range of articles, interviews, fashion show reviews and photo shoots, the site provides a comprehensive look at contemporary men's fashion. Readers can explore styles, fashion and beauty tips, as well as discover profiles of emerging and established models. MaleModelScene serves as an informative and visual platform that celebrates the diversity and creativity within men's fashion.
Design Scene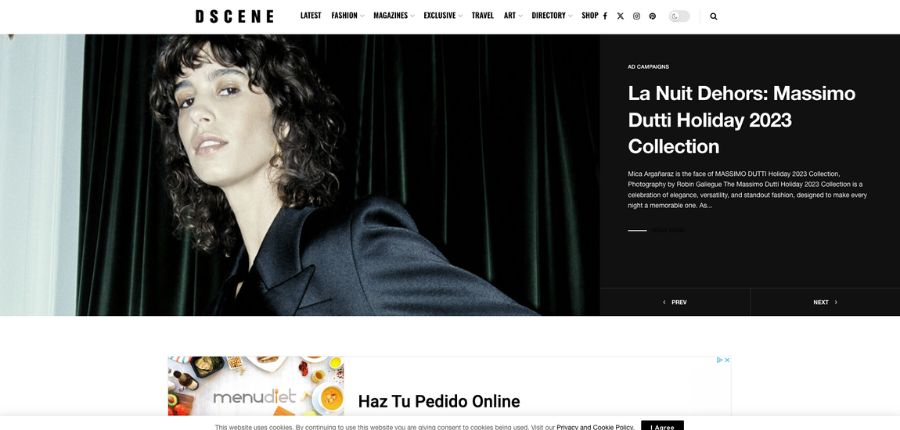 DesignScene is a dynamic blog that dives into the world of design, encompassing fashion, art, photography and visual culture. With a vibrant and eclectic approach, the site offers a platform to explore the latest trends in fashion design, innovative graphic design, creative architecture and contemporary art.
Through articles, interviews, reviews and visual galleries, DesignScene celebrates creativity in all its forms, highlighting both emerging talent and established figures. Readers enjoy a showcase of fresh ideas and inspiring perspectives on the world of design, making it a vital destination for creative enthusiasts and professionals.
Eluxe Magazine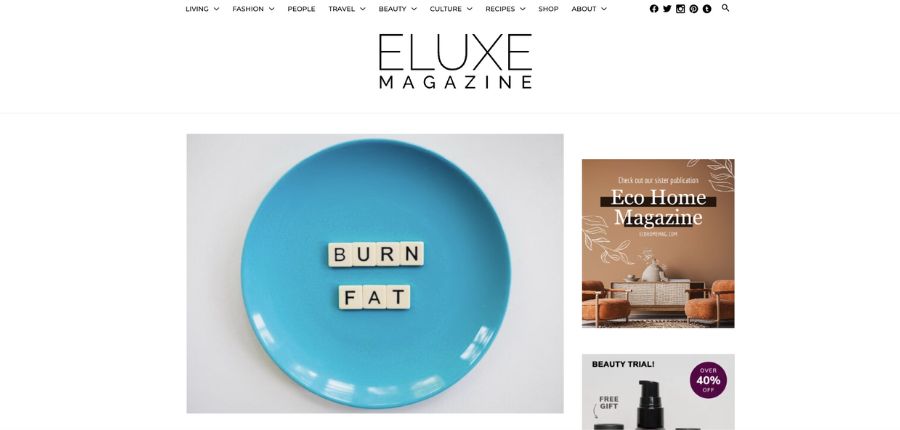 Eluxe Magazine stands out as a leading platform for sustainable lifestyle and ethical luxury. It offers a unique fusion of fashion, beauty, travel, design and wellness, all under the premise of sustainability. The site features articles exploring eco-friendly brands and products, as well as ideas for a more conscious lifestyle.
It also offers a close look at designers committed to ethical production and sustainable materials. Eluxe Magazine is positioned as an essential resource for those looking to incorporate ethics and sustainability into all aspects of their daily lives, without compromising luxury or style.
Fashionterest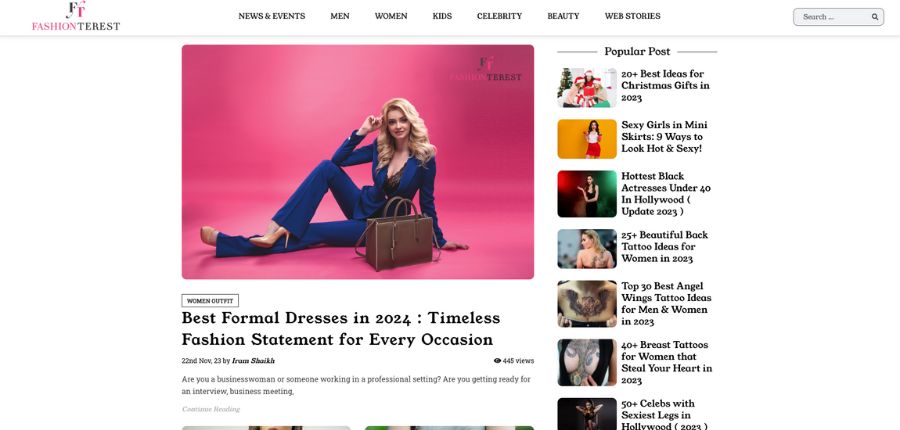 Fashionterest is a fashion and lifestyle blog that captivates fashion lovers with its eclectic mix of trends, beauty tips, style inspiration and celebrity news.
This site is an essential resource for keeping up with the latest trends and discovering fresh ideas for wardrobe and décor. It offers information on clothing, accessories and beauty products, as well as travel and lifestyle articles. Fashionterest is an online destination that provides inspiration and guidance for those looking to refine their personal style and stay on top of the latest in fashion and lifestyle.
Amy & Rose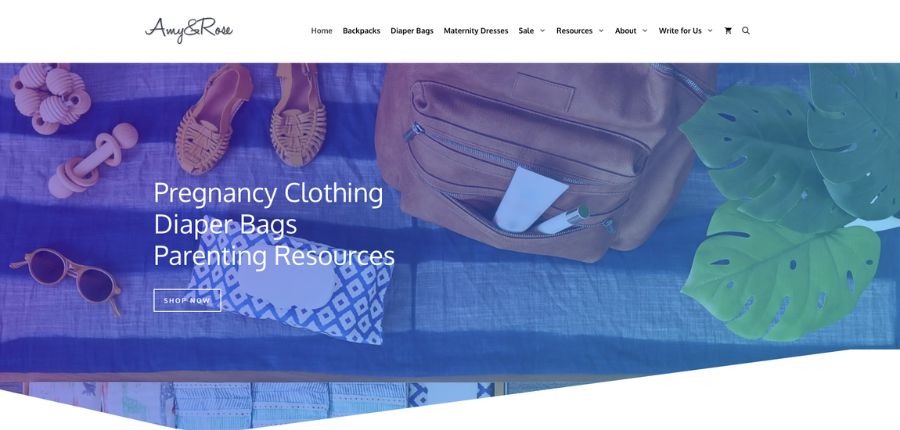 Amy & Rose is more than a blog; it is an oasis for parents looking for inspiration, tips and products for raising their children. This platform addresses a wide range of topics, from childcare, educational toys, children's clothing and accessories, to parenting tips.
You will find detailed product reviews and informative articles on child development. Amy & Rose strives to be a trusted guide for parents, providing fresh ideas and practical solutions, making it a valuable resource for those who want to raise their children with love, care and knowledge.
Fashion Bomb Daily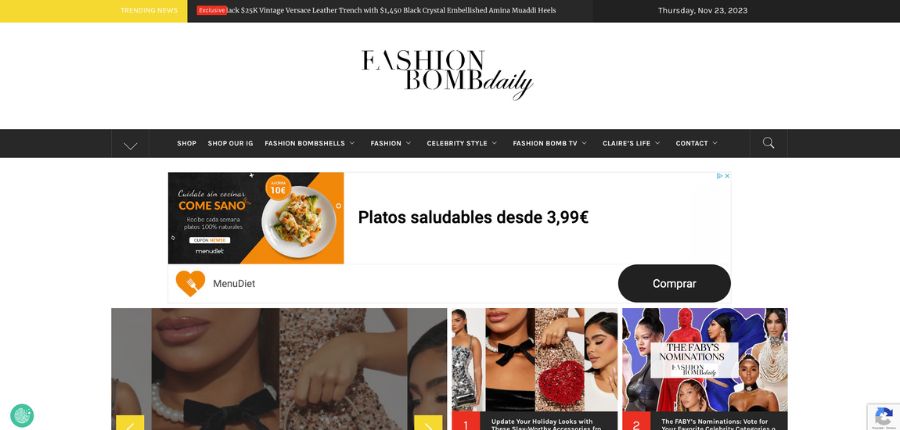 Fashion Bomb Daily is a fashion blog that redefines the street style narrative. Highlighting the latest trends in streetwear, celebrity and culture, this site offers a fresh and vibrant take on the fashion world. From runway show reviews to celebrity style details, Fashion Bomb Daily is a showcase of the latest fashion.
With detailed articles, style tips, exclusive interviews and event coverage, the blog becomes an essential source for those seeking inspiration in everyday fashion, demonstrating how fashion can be a means of cultural and personal expression.
Fashion Era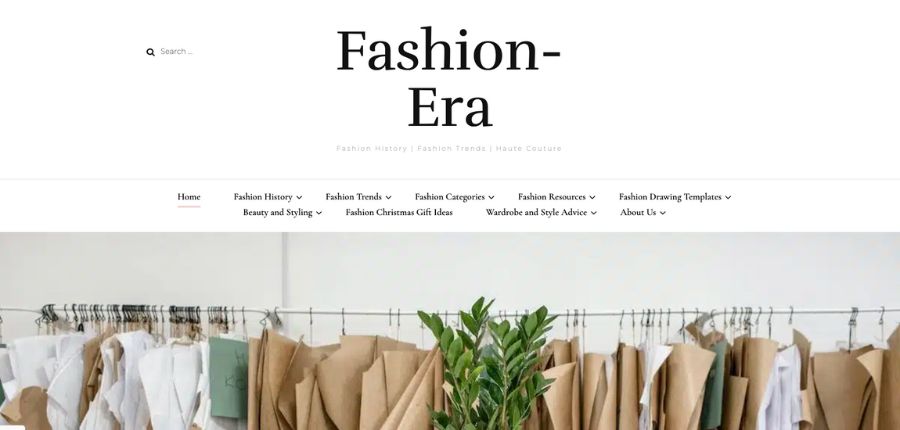 Fashion Era is a blog that immerses fashion lovers in a journey through the history of clothing. You will have access to a detailed analysis of the evolution of fashion, from antiquity to the present day, providing a comprehensive view of how clothing has reflected social and cultural changes over time.
With an incredible variety of informative articles, illustrations and historical photographs, Fashion-Era provides an in-depth understanding of the trends and styles of each era. It is a valuable resource for designers, students and fashion enthusiasts who want to understand the context and evolution behind the clothes we wear today.
Godfather Style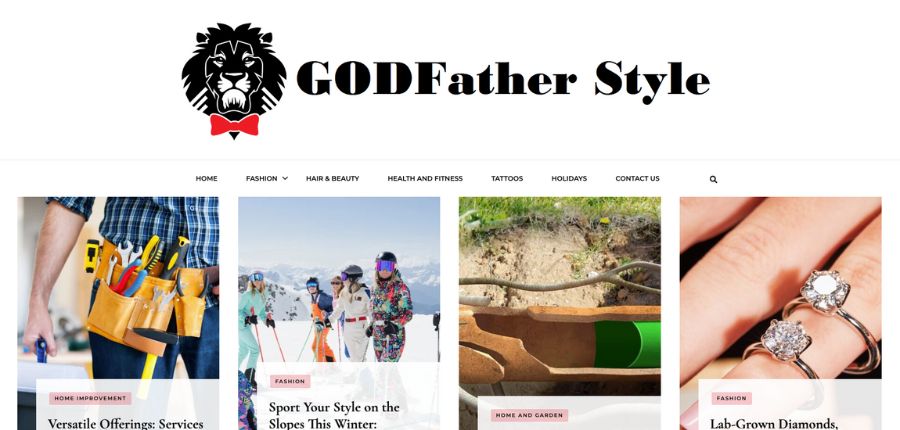 Godfather Style is a blog that encapsulates timeless elegance and style across a wide range of topics, from fashion and interior design to life advice. It details a unique fusion of classic and contemporary inspiration for men and women, addressing fashion trends, hairstyles, home decor and sophisticated living tips.
Its articles are detailed, with visual galleries and practical advice, making it an essential resource for those looking to incorporate sophistication and elegance into their daily lives. Godfather Style celebrates the heritage of the classic while embracing modern influences, providing a fresh and refined take on style and life.
Boost your brand appearing in the best fashion blogs with Linkatomic
At Linkatomic you can buy sponsored articles on the best fashion blogs on the internet. You will appear in news format on the best trending sites, improving your online reputation, generating a better positioning in search engines, and increasing the visibility of your brand.
Early childhood education teacher transformed into SEO specialist, marketing, and sales. It started as a hobby and ended up becoming an obsession.
Need help with your SEO and Branded content strategy?
At Linkatomic we offer you 10.000 newspapers and blogs to improve your visibility on the Internet.